Sales and Marketing Automation Alignment (SMAA)

Sales and marketing

data

systems automation planning

Sales enablement programs

Lead-to-revenue programs

Perpetual demand creation

Customer journey mapping, planning, content development

Customer lifetime value analysis and segmentation
Lifecycle communication planning

Cluster analysis and persona development

Positioning and messaging strategy

Predictive modeling and segmentation planning

BI dashboard development

Customer journey mapping and messaging development

Campaign automation planning

Critical Customer Event (CCE) development
40% of sales executives surveyed say scattered information and limited visibility into data is impeding sales. 1
Clean marketing automation can increase qualified leads by 451% and improves sales cycles by as much as 70%. 2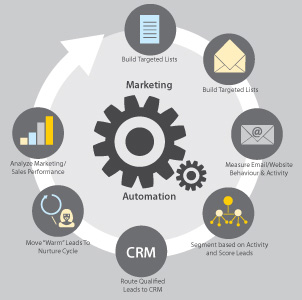 When your marketing automation systems are aligned, you generate more leads and make more money, more easily and quickly.
We call it Sales and Marketing Automation Alignment (SMAA). And we, of course, are here to help you achieve it.
If you're having systems integration and process problems, we're going to help you solve them. Or even if you think your processes can run more effectively, we can optimize them.
Our systems experts have deep experience with the world's most popular marketing automation tools—Marketo, Eloqua, Silverop, HubSpot, Partot and Responsys, among others. They know how to get the most out of them individually and as a whole.
You'll get meaningful perspective into your digital marketing landscape. Greater visibility into customer data—and behavior.
It's all about removing obstacles so all your customers' journeys take them to your bottom line.
Program-based strategic services include:
1  Harvard Business Review, The New Science of Sales Performance, 2015
2 The Annuities Group
3  Aberdeen Group